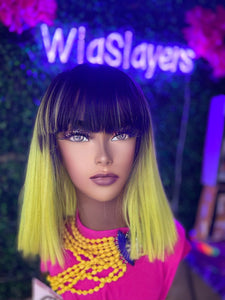 Introducing the Summer Wig, a playful and fun synthetic wig that's perfect for those looking to make a statement! This bang bob wig comes in the stunning color combination of 1b and lime green, making it a unique and eye-catching addition to your wig collection.
The Summer Wig features a sleek bob style with bangs, giving you a chic and stylish look. The synthetic fibers are designed to mimic the look and feel of natural hair, providing you with comfortable and breathable wear.
Whether you're heading out for a night on the town or just want to switch up your everyday style, the Summer Wig is a great choice. It's versatility and playful design make it the perfect wig for any occasion.
Note: The wig is brand new and will be packaged in a plastic bag, which will then be placed inside a shipping bag for delivery.
All sales are final and non-refundable.